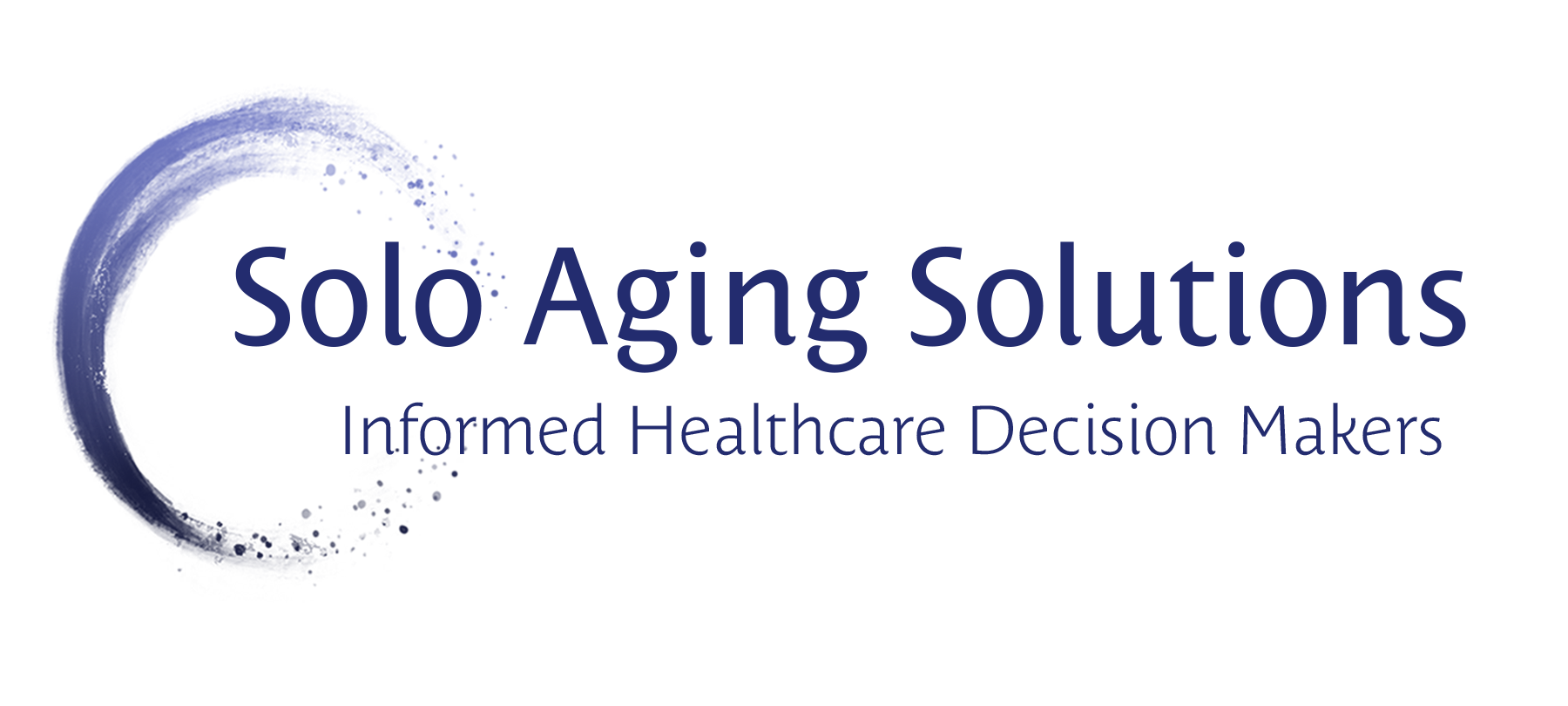 PLEASE NOTE: To protect your safety in response to the COVID-19 pandemic, we are offering our clients the ability to meet with us in person (observing social distancing), via telephone or through video conference. Please call our office to discuss your options.
Welcome
At Solo Aging Solutions, we provide dedicated Healthcare Agents to uphold our clients' healthcare desires should the need arise. We work with our clients to prepare their Advance Healthcare Directive and name our trusted, professional agents as official Healthcare Proxies.
The role of a Solo Aging Solutions (SAS) Healthcare Agent (HCA) is to provide clients with peace of mind in knowing their healthcare decisions will be made by qualified HCAs who will consult with the clients' healthcare providers and communicate the clients' wishes.
We also provide care management and coordination services to assist our clients as they integrate their ongoing healthcare needs with maintaining their quality of life. We assist our clients in formulating a plan tailored to their specific needs and wishes for aging and future care.
Is Solo Aging Solutions for Me?
Our clients include couples, singles, widows and widowers who do not have children, family, or other trusted persons nearby who can make qualified healthcare decisions, according to the clients' wishes, in the event our clients are not able to speak for themselves. SAS provides dedicated, qualified Healthcare Agents trained to best ensure the client's healthcare wishes are honored.
What is a Healthcare Agent?
An SAS Healthcare Agent (HCA) is a qualified professional trained to uphold each client's healthcare wishes no matter the medical situation. HCAs will meet with clients once or twice per year, including a physician's visit to ensure they are updated on all health statuses. HCAs are available 24/7 to assist whenever the client's situation may call for trusted decision making.
What Do I Get When I Enroll?
Peace of mind knowing your healthcare decisions will be made by an SAS Healthcare Agent. All new clients receive a complimentary consultation, in-house assessment, annual in-home visit and HCA attendance during physician's visit, and 24/7 on-call service from your HCA to ensure your healthcare decisions are upheld whenever the necessity arises.
Office Location
5743 Corsa Ave.
Suite 208
Westlake Village, CA 91362